Open Thurs - Sat
10 am - 5 pm

(903) 581-4926

Email Us

1813 Capital Drive
Tyler, TX 75701
Click For Full Map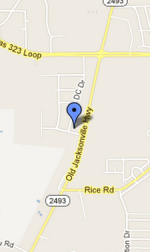 "I've traveled the country from coast to coast over the years and always make a point to visit local quilt shops. In all my travels from Washington to Texas to Illinois, always going a different route to see different shops, I have never seen such an extensive selection of wool anywhere! I'm thrilled to have discovered Woolley Fox and A Nimble Thimble in Tyler today!"

- Beth K., Port Angeles, WA
"Thank you, Francis, for taking the time to cut Christmas
pillow case
fabric for me today. All six are done and will be a great surprise! Coming back for more Christmas fabric - I love this store!"

- Joyce P., Van
I want A Nimble Thimble to do well because it is one of my favorite places to go. You deserve for it to do well because I have an idea how much time and effort you have put into your business -- it shows! As a customer, I thank you for doing that little bit of something extra that makes everything so special.

- Paula, Tyler
I just wanted to let you know that I loved the quilting class and I thought that Sandy did a great job. She is very patient and she explained things very well. I am so glad that I decided to take the class over there [in Tyler] even if I do have to rush! Everyone is very friendly and I love, love, love the store.

I'm excited to learn all about quilting and I appreciate everyone's willingness to help and share their knowledge. It just goes to show you that customer service is key because that is what got me over to your store... I enjoyed your staff and am so excited to learn all about quilting!
- Sherri, Longview
My 4th grade class at Caldwell Elementary and I wanted to thank you for donating the quilt squares to us for our summary quilt. They had a great time doing it and it came out beautifully. I do appreciate you for helping my students gain a new experience. We are very thankful.
- Katie O., Tyler
"I went to a software extravaganza in Chicago for Designer Plus software with over 50 people from around

the

country. It was amazing to hear how many customers

didn't have dealer support where thy bought their Bernina products

- the stores were happy to sell them the machine and the software, but that was it. I was really surprised because here at A Nimble Thimble it is so different. We have software and machine support, and there's never anything that isn't handled by Katie and her wonderful staff. They take care of us as customers and do it well."
Debbie M., Tyler