Open Thurs - Sat
10 am - 5 pm

(903) 581-4926

Email Us

1813 Capital Drive
Tyler, TX 75701
Click For Full Map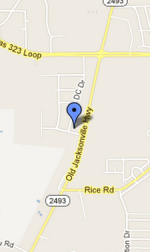 Swatch Buddies
Mount fabric swatches to plastic cards to make portable swatch fans.
Make fabric shopping a dream - never buy the wrong fabric again!


Purple Scissors & Tape Measure
Cut & measure in the highest of style with this cute combo!


Rotary Blade Sharpener
Effortlessly keep your fabric cutting blades sharp - both 28 & 60 mm


Perfect Curved Scissors
The names says it all - designed for comfort & protection


"Noteworthy" Mini Charm Pack

by Moda
Remember when we actually wrote things down with a pencil and paper?

A line of fabric Inspired by that time.